Greetings from Police Chief Michael L. Martin
Welcome and thank you for taking the time to visit our website!  I am proud to share with you some insight about the caring and professional police department which serves this great community. As you read through this section, I hope that you will take notice that the pronoun, "our" is repeated as a common theme to include the community.  Our entire police department and township staff firmly believes that public service is a team/community endeavor, requiring mutual respect, cooperation, and admiration.
The Franconia Township Police Department is a fully accredited police agency which adheres to the strict standards set forth by the Pennsylvania Law Enforcement Accreditation Program of the Pennsylvania Chiefs of Police Association.  Our department consists of 10 full time police officers, one part-time police officer, one civilian administrative assistant, and one school-crossing guard. All are highly competent, committed, and dedicated men and women with a common goal of providing exceptional service to the people who work, visit, and live here in Franconia Township. 
In addition to providing various safety, crime prevention and social services to the community we also act as a liaison to numerous other service providers. We are committed to the highest values of integrity and service through fair, honest, courteous, and unbiased policing. Our Police Department strives to be a proactive organization that, in partnership with the schools, churches, businesses, service organizations and its citizens, works to keep Franconia Township the safest community in Pennsylvania.
Again, thank you for taking the time to acquaint yourself with our department. Please enjoy a brief visit through our history and operations.
Chief Michael L. Martin
Franconia Township Police Now Offers Online Reporting
In an effort to make your contact with the Franconia Township Police Department safe and easy during the COVID-19 era, our Records Management System (RMS) was upgraded to accept Online Reports.  This is a new method of reporting to remain in place during these uncertain times.  If you need to report a non-violent crime or incident including, but not limited to fraud, theft, damage to property, a local ordinance violation, police information or reports for insurance purposes, please go to the following website https://reports.csitech.com  and complete the form as instructed.
Someone from the police department will be monitoring the RMS on a daily basis.  Once the report is received and reviewed it will be processed in the same manner as in-person reports and assigned to an officer to investigate or follow up as necessary.  Please be patient as this is a new process for everyone. Also, remember this site is for non-emergency issues.  If you have a true emergency do not hesitate to DIAL 911.  Franconia Township Police Officers are still out patrolling your neighborhoods and answering calls for service.  As always, the Franconia Township Police Department is here to serve our residents and community. 
Thank you,
Franconia Township Police Dept.
Contact Information
Police
Emergency: 9-1-1 Non-Emergency: (215) 723-6778 Fax: 215-723-1165 police@franconia-township.org
Telephone & Email Directory
| Name | Title | Telephone |
| --- | --- | --- |
| Michael L. Martin | Police Chief | (215) 723-6778 |
Ongoing Police Department Community Programs
Drug Disposal Drop Box (Free) - Anonymous disposal of your unwanted, expired drugs. Located in the lobby of the Police Department.
Special Needs In-House Registry (Free) - Register your loved ones so that we have important information before we may need it in an emergency. Complete the form, and send it in with a current photo. This is in addition to Montgomery County's Special Needs Registry.
Business Emergency Contact Information (Free) We keep important information for those after-hours emergencies. Remember to keep your information current. Download the Emergency Contact Information Form.
Facebook - Get safety tips, important alerts, and stay up-to-date by following us on Facebook.
Mission & Values
OUR MISSION STATEMENT
The Mission of the Franconia Township Police Department is to enhance the quality of life in our Township by working in partnership with the community and, in accordance with constitutional rights, to enforce the laws, preserve the peace, reduce fear, and provide for a safe environment. 
OUR VALUES STATEMENT
As partners in the community, we are committed to law enforcement professionalism through:
INTEGRITY:
We will strive to uphold the public's trust by being honest, competent and consistent in our beliefs and actions. We will hold ourselves accountable to the highest standards of moral and ethical conduct.
RESPECT:
We will treat all people with respect and dignity as we take pride in our profession, our community and ourselves. Working as a team, we will strive to be role models for our community by respecting the significance of human life and honoring individual human rights.
SERVICE:
We will dedicate ourselves to improve the quality of life in our community by providing a safe environment for all. We are committed to protecting life and property, reducing fear and developing a partnership with citizens to prevent and solve crimes.
Michael L. Martin, Chief of Police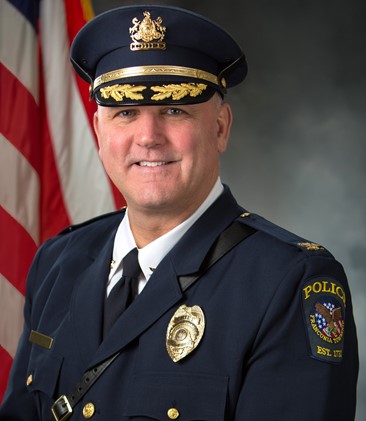 Chief Martin came to Franconia Township after serving with the Upper Merion Township Police Department in King of Prussia, PA for 31 years.  He graduated from Upper Merion High School before attending Memphis State University in Memphis, TN on a football scholarship.  Martin started his law enforcement career with Upper Merion Township after graduating from the Pennsylvania State Police Academy, Southeast Training Center in 1987.  Martin began as a patrol officer and also completed a two-year assignment as a detective.  In 1997 he became the department's first full time Community Relations Officer, building the unit, implementing the D.A.R.E. (Drug Abuse Resistance Education) program and creating several long-standing initiatives.  A member of the Central Montgomery County Special Weapons and Tactics Team for 13 years, Martin was an entry operator and instructor for Immediate Action Rapid Deployment, Urban Police Rifle and MP-5 Submachine gun.  He was promoted to Sergeant in 2001, remaining in Community Relations and supervising the department's Drug Task Force. Martin was promoted to Lieutenant in 2007, serving as the Commander of the Auxiliary Services, Patrol and Investigations Divisions.  The recipient of numerous awards and commendations throughout his career, Martin retired in 2018 to accept the Chief of Police position in Franconia Township.
Chief Martin earned both a Bachelor's and Master's Degree in Criminal Justice from Saint Joseph's University in Philadelphia, PA.  He also earned the Criminal Justice Award in both undergraduate and graduate studies for outstanding academic achievement and was inducted into Alpha Epsilon Lambda.  Chief Martin is a graduate of the FBI National Academy in Quantico, VA and was an Adjunct Professor of Criminal Justice and Sociology at Saint Joseph's University.
Michael L. Martin was sworn in as the Township's new Police Chief on May 10, 2018.  Chief Martin is extremely honored to be the fourth Chief of Police in Franconia Township history.
PATROL DIVISION
Nine uniformed patrol officers respond to calls for service in Franconia Township.  In addition to a multitude of daily responsibilities, our officers are primarily responsible for crime prevention/detection, enforcement of traffic laws, accident investigations as well as the initial reports on crimes and other incidents. Several of our officers have extensive training in specialized services such as the reconstruction of serious motor vehicle crashes, De-escalation Techniques, Less-lethal force, and Special Weapons and Tactics (SWAT).  All officers are certified Crisis Intervention Specialists, three of whom hold advanced certifications.
The patrol division employs the most state of the art tools and equipment in the  profession. Late model vehicles, mobile data computers, Urban Police Rifles, in-car video and body camera systems, and Automated External Defibrillators (AEDs) are utilized to enhance officer and citizen safety.  The bicycle patrol unit is outfitted with three standard police package bicycles and one "e-Bike" which provides greater response time and mobility.  A total of five electronic speed display boards are continuously deployed in varying locations throughout the township to ensure highway safety.
INVESTIGATIONS DIVISION
Detective Glenn Kranich performs investigations of serious crimes as well as those initially handled by patrol officers which require advanced follow up. Det. Kranich is also tasked with primary investigations of juvenile-related incidents.  Having been an investigator since 2014, Det. Kranich is skilled in many facets of classic & forensic science investigative techniques. The detective unit is supported by the Administrative Sergeant and specially trained patrol officers when needed. 
Safety Recommendations
INTERNET SAFETY PRESENTATIONS NOW AVAILABLE TO PUBLIC
The Internet information resource, NetSmartz, has made training originally only available to law enforcement professionals available to the public. Their safety presentations are suitable for children and adults of all ages, covering topics such as:
What are online risks
What resources are available
Examining your online practices
How to avoid risks
NetSmartz is an internet information resource from the National Center for Missing and Exploited Children geared toward educating children about internet safety. Learn more on www.NetSmartz.org.
Department History
THREE DECADES, ONE CHIEF  Police coverage was provided by the Pennsylvania State Police until 1962, when a group of residents signed a petition requesting the Board of Supervisors create the Franconia Township Police Department. The Board approved the request and Kenneth Lear, a retired Chief of Police from Lansdale, was hired to build the Department. He and one part-time officer handled calls from the former township building, an old farmhouse that stood on the site that was more recently a bank and is now a used-car lot at Harleysville Pike and Allentown Road.
In 1965, Paul R. Hunsberger was appointed to the Chief's position after the death of Chief Lear. Chief Hunsberger served with the Upper Gwynedd Township Police Department for six years prior to his arrival in Franconia. The Chief's family was dedicated to police service. During a time in Chief Hunsberger's career, his father was the Chief of Police in Souderton Borough, and his half-brother, John Kayser, served as Chief of Police in Upper Dublin Township.
During the next 31 years, Chief Hunsberger oversaw the growth of the Police Department to meet the needs of a growing township. He was instrumental in developing many partnerships with the community, especially the schools, where he presented annual bicycle rodeos and coloring contests. In 1976, he supervised the Police Department's move to the current Township Building on Allentown Road. Chief Hunsberger faithfully served the Franconia residents until his retirement in 1997.
CONTINUING THE LEGACY OF LEADERSHIP
"Chief Joe" or "Koz" as he was known to many, took the reins from Chief Hunsberger after his retirement. Chief Kozeniewski started work as a Police and Fire Dispatcher for Montgomery County from 1971 through 1974. He then began his law enforcement career in 1974, joining the Upper Providence Township Police Department until 1981 when he came to Franconia. During his tenure here, he was awarded the "Outstanding Young Law Enforcement Officer Award" and served as both Vice President and President of the Montgomery County Lodge 14, Fraternal Order of Police. In January of 1997 he was appointed Chief of the Franconia Township Police Department. Chief Kozeniewski graduated from the prestigious FBI National Academy and the Pennsylvania Chiefs of Police Association Executive Development School. In addition to his participation and leadership in many programs, Chief Kozeniewski played an instrumental role in securing a new police building in 2004. He continued to work for the betterment of the Department and community for many years. Under his supervision, the Franconia Township Police Department became one of approximately 100 Accredited Police Agencies in Pennsylvania.  On May 14, 2018, Chief Joseph Kozeniewski retired from our Police Department after serving this community and our County since 1971.
Our present Chief of Police, Michael L. Martin was sworn in on May 10, 2018. Chief Martin was with the Upper Merion Township Police Department for 31 years before joining Franconia Township. 
The Department now provides a complement of 10 full-time officers, one part-time officer, a civilian administrative assistant, and a school crossing guard. All of the Department's vehicles are radio dispatched by the Montgomery County Communications Center, which provides the 9-1-1 emergency service. Each police vehicle is equipped with computer data terminals and automatic external defibrillators.
In May, 2004, the Police Department moved into its new separate 9,000 square-foot facility, which is adjacent to the Township Building. The new headquarters is designed to meet the needs for expected growth of the Franconia community for many years.
Helpful Public Safety Links
Law Enforcement Career Links